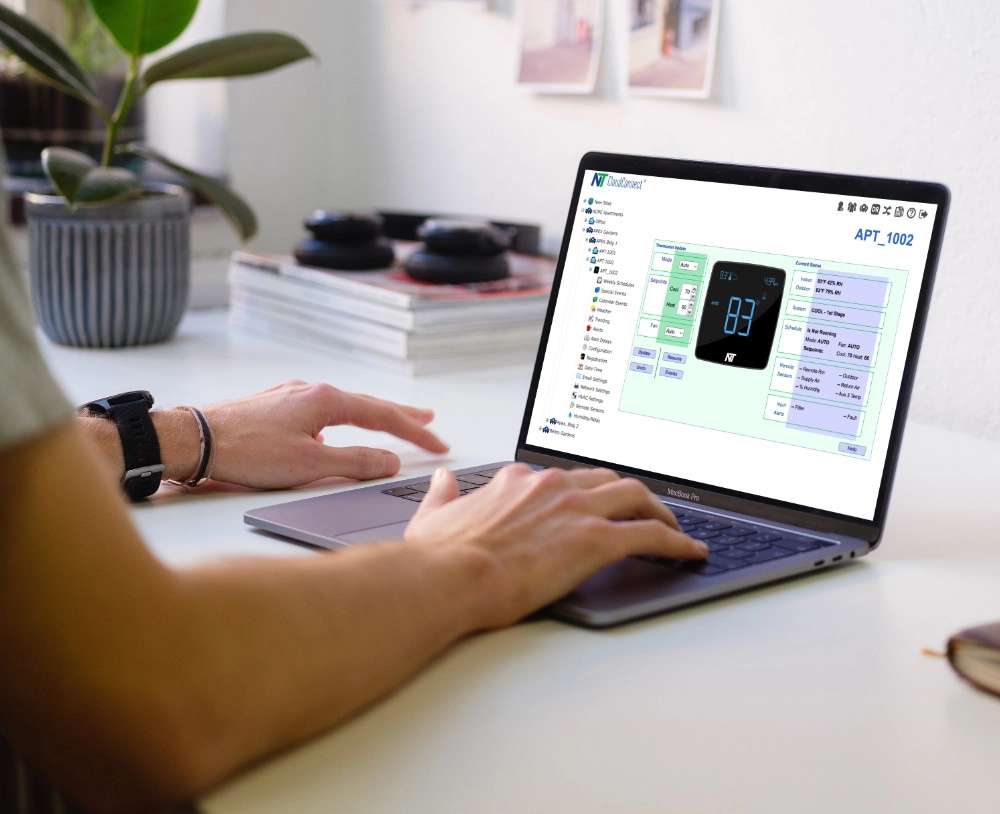 Property managers are often burdened with the chore of keeping one or more buildings in order and are usually understaffed. Thermostats with internet control make it simple to manage comfort and optimize utility savings. Simple scheduling, commercial lockouts, setpoint restrictions, and global access are the keys to getting your buildings under control. 
As technology advances, so does the way we control the temperature in our buildings. Gone are the days of manually adjusting the thermostat or relying on outdated systems. Wireless thermostats, smart thermostats, remote sensor thermostats, and networkable thermostats offer more control and convenience. In this article, we will explore the benefits of having a thermostat with internet control and why it's a must-have for your building.
1. Convenience of Thermostats with Internet Control
One of the most significant benefits of a thermostat with internet control is convenience. With the touch of a button on your smartphone, PC, or tablet, building temperatures can be monitored and adjusted from anywhere. This means facility managers, property owners, and tenants  can schedule occupied and unoccupied temperature settings so that when  they arrive at the building in the mornings it's comfortable, and when they leave the office for the day energy savings will start automatically 
No more arriving at a cold office, or wasting energy and money on heating or cooling when no one is there. By using a modern device such as the NetX X-Series thermostat with the NetX ecosystem or with the embedded protocol making it a BACnet thermostat, you can set up smart scheduling features, including calendar scheduling, so that your building's temperature settings can change automatically based on seasonal preferences and special events and holidays. You can even schedule your parking lot lights and signage. 
2. Energy Savings
Another significant benefit of a thermostat with internet control is energy savings. By having more control over your building's temperature, you can better manage your energy usage and reduce monthly utility bills. For example, you can set your thermostats to a relaxed temperature setting during times when no one is in the building and then use more comfortable settings when everyone returns. With the NetX thermostats, you can even allow the thermostat to automatically and intelligently start the morning temperature recovery so the building is comfortable upon arrival. This way, you can keep your building comfortable while saving energy and money.
3. Increased Comfort
A thermostat with internet control can also increase the comfort level in your building. With the simple yet sophisticated features including remote access, in addition to regularly planned scheduling, you can adjust the temperature when there is an unplanned event, all from a smartphone, tablet, or PC.
Commercial smart thermostats (networkable thermostats) such as the NetX thermostats can also include humidity control (very important for comfort) and IAQ monitoring and control.
NetX smart thermostats include very sophisticated algorithms to keep the building comfortable even as HVAC equipment ages and become less efficient. 
4. Remote Monitoring and Maintenance
By utilizing remote monitoring and data logging, smart thermostats, which can integrate with other smart devices in your buildings, provide valuable data about your building's heating and cooling system. For example, you can see how often your system is running, how long it takes to reach a desired temperature, and how much energy is being used. 
The system can be programmed to send alerts (emails and texts) for a multitude of issues - inefficient equipment operation, dirty filters, filter change reminders, and even freeze alerts.
Commercial buildings realize a huge benefit from thermostats using internet control. They provide facilities managers the ability to manage their properties  from anywhere using just an internet connection. Submetering and energy costs are easily managed in un-leased units and common areas, and tenants can be given restricted access via the app. The thermostats can send notifications of potential HVAC conditions before they become major issues.
5. Thermostats With Internet Control Increase Property Values
Property values can experience an uptick when a thermostat with internet control is installed. Because they provide property owners with greater control and flexibility over their energy consumption, users are able to create custom settings to reduce or increase the temperature in different areas, or even entire floors of a building, depending on their needs. 
They can also program the thermostat for automatic temperature changes at specific times during the day or night. NetX thermostat models are equipped with the ability to attach motion sensors that detect when people enter and exit rooms so energy isn't wasted heating up or cooling down non-occupied spaces.
Conclusion
A thermostat with internet control is a must-have for your building. The convenience, energy savings, increased comfort, access to data, and integration with other smart devices make it an essential component of any modern heating and cooling system. Whether you choose a wireless thermostat, smart thermostat, remote sensor thermostat, or networkable thermostat, you can enjoy the benefits of remote access, energy savings, and increased comfort in your building.
Contact Us for More Information