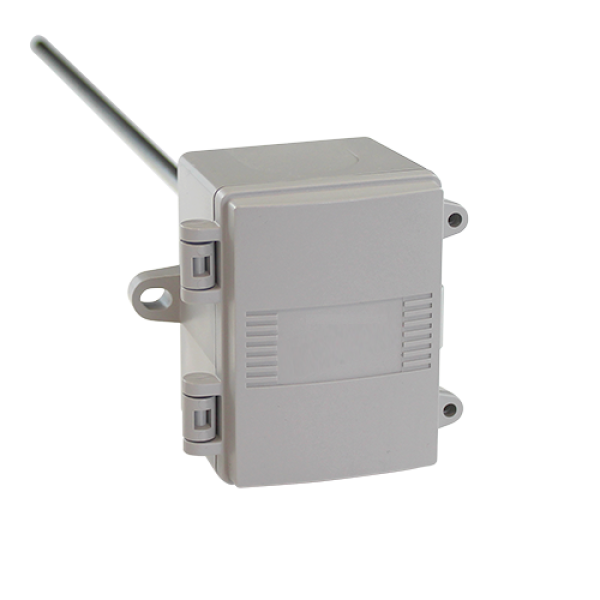 Remote Digital Temperature Probe
Duct Mount Remote Temperature Sensor w/8" Probe
Weatherized Case
Up to 3 NT-DRS per X7 or X5 Thermostat
Simple 3-Wire Daisy Chain Connection
Multiple Configurations for Flexible Application Use
Built-In RSBus Electronics
Configurable as AUX 1, AUX 2, AUX 3 – Temperature Only
Wide Temperature Range: -40°F to +200°F (-40°C to +93°C)
Specs

Rated Voltage: 
20V to 30VAC, 24VAC nominal

Auxiliary Temp Sensor Range:
AUX1, AUX2, AUX3: -40°F to +200°F (-40°C to +93°C)

Measurement Accuracy: 
± 1°F (± 0.5°C)

Terminations: 
RS1 - Data, RS+V – Power, RS2 – Return,
1 & 2 – Temperature Probe Leads (internal)
Jumpers for Bus Loading of 1-2, 3-5, and 6+ Sensors

Dimensions:
- Case: 3.0"H x 3.25"W x 2.05"D; (76.2mm x 82.5mm x 52mm)
- Probe: 8.0";  (203.2mm)

Approved Cable Types:
CAT5 or CAT5e unshielded, or 1-Pair Twisted Shielded Cable with Drain and nominal capacitance of 12pF/ft or less. Use riser or plenum jacket as required by local code.

Recommended cable is W221P-2003NT.

Maximum 300ft Total Sensor Cable Length per Thermostat

 
Features
Description

The Network Thermostat NT-DRS duct remote sensor is designed to sense temperature at remote locations where a stainless steel probe is required. The unit communicates with a NetX thermostat when connected via the 3-wire NetX RSBus.

Typical applications include supply temperature, return temperature, walk-in refrigerators and walk-in freezers.

The NT-DRS sensor can be used as any one of three auxiliary temperature sensors.
Related Products
Docs