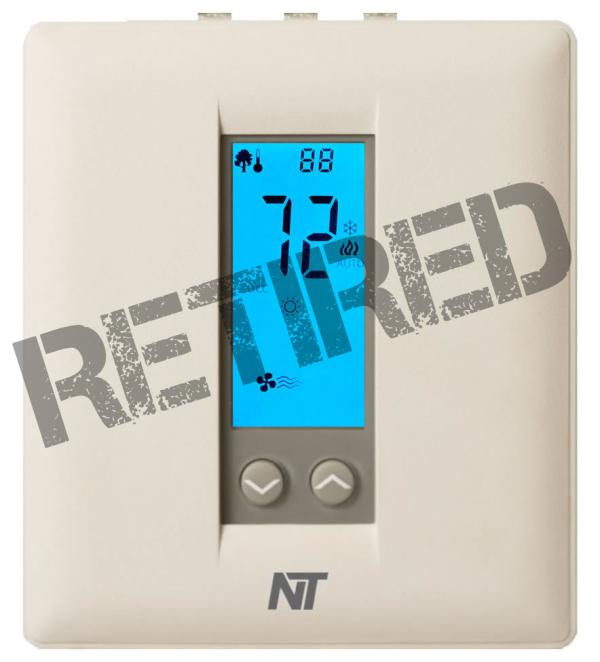 XBus™ Wired Communicating Thermostat
Features

Controls Conventional Gas/Electric Systems with up to 2 Heat and 2 Cool Stages
Controls Heat Pump Systems with up to 3 Heat and 2 Cool Stages
Vibrant Blue Backlight with Selectable Brightness
Automatic Changeover from Heat-to-Cool and Cool-to-Heat
2 Occupied (Day-Cool & Day-Heat) and 2 Unoccupied (Night-Cool & Night-Heat) Setpoints
Selectable Fahrenheit or Celsius Display
Commercial Lockout with Programmable Override Timer, and +/-3F or +/-5F Temp Adjustment
Setback Terminal Input with Selectable Occ/Unocc Operation or Mode OFF
Lockable Access Cover
Plenum Fan Switch
HVAC equipment control using dry contact relays
2 LED lights; LEDs triggered via 2 Digital Inputs which can be use for Equipment Faults, Dirty Filter, Condensate Overflow or any other contact closure input
Up to 6 Remote Indoor Sensors (NT-TEMP) and 1 Outdoor Sensor (NT-TEMP + NT-OUTDOOR probe)
Optional Occupancy Sensors Available (Ceiling and Wall Mount)
Integrated NetX™ API language, Allowing for Development of 3rd Party Apps
Specs

Rated Voltage: 20V to 30VAC, 24VAC nominal
Rated A.C. Current: 0.05 to 0.75 Amp continuous, per output, surges to 3 Amps max.
Rated D.C. Current: 0.05 to 0.75 Amp continuous, per output, surges to 3 Amps max.
Control Range: Heating: 38 to 88°F in 1° steps (6 to 30°C in 1° steps)
                              Cooling: 60 to 108°F in 1° steps (16 to 40°C in 1° steps)
Sensing Range: 20 to 124°F (0 to 48°C)
Control Accuracy: +/-1°F @ 68°F (0.5°C @ 20°C)
Minimum Heat/Cool Deadband: 2°F (1°C)
Dimensions: 4.5"H x 4"W x 1"D (114mm x 102mm x 26mm)
Thermostat LEDs: LED1 - Red, LED2 -Red
Equipment Terminations: R-24V switching voltage,  W1 - Heat1, W2 - Heat2, G - Fan, Y1 - Cool1, Y2 - Cool2
Power Terminations: 24V - isolated remote power, 24V(c) - power common (from HVAC equipment or remote power)
Thermostat Communications:  StrongMesh™ wireless communications
Description

2-Heat/2-Cool for Conventional Gas, Electric, Oil, and Radiant Heat HVAC Systems
3-Heat/2-Cool for Heat Pump HVAC Systems with Normal or Dual Fuel Applications
Setback Thermostat with Wireless StrongMesh™ Communications
Secure Direct Connection via any NetX Network Controller

The US32-NX communicating setback thermostat is the our 5th Generation version with a beautiful new blue backlight and a secondary display for remote sensors.  It's designed for new and replacement commercial or residential applications for both conventional Gas/Electric and Heat Pump HVAC equipment.  Using the NetX™ network controller and the NetX™ Command Center software for XBus™ and StrongMesh™ thermostats, NetX™ makes it simple with near effortless changes to each setting on the thermostat. The pushbuttons on the thermostat can be locked to give restricted override capabilities, and the optional Occupancy Sensor enables automatic energy savings.

 
Related Products
Docs