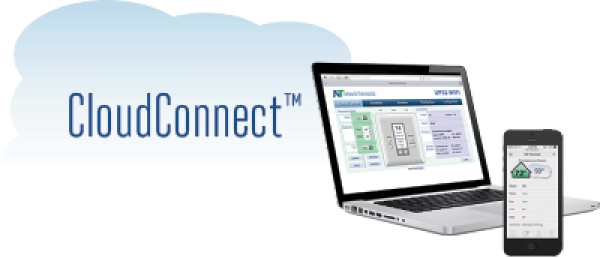 Enterprise Class Thermostat Control
New for CloudConnect is our Dashboard Overview. Available to the PLUS and ADVANCED subscription plans, the Dashboard Overview presents a quick snapshot of important thermostat parameters offering the following:
Panel View - Provides current snapshots of all your NetX thermostats
List View - Provided detailed thermostat information in a searchable, sortable format
Search Function - Search for thermostats presented based on specific search criteria
Sort Function - Changing the sort order changes the order of thermostats in the Panel View
Quick Access Links - Clicking on the button on Panel View takes you directly to the thermostat
Color-Coded Staging Presentation - Blue for Cooling, Red for Heating, & Light Grey for Auto
Quick Alert Highlighting - Clicking on the thermostat with an Alert notification takes a user directly to the thermostat alerts page.
Specs

Mac Compatible

Any Apple Mac® using OSX with Ethernet and/or Wi-Fi, and the most recent JAVA application installed.

Windows Compatible

Compatible with all Windows 7, 8 & 10
Previous versions of Windows will not work.
Monitor resolution - 1024 x 768 or higher
10MB available hard disk storage


All Windows images and 'Windows' text are trademarks of Microsoft Corporation.
Description

CloudConnect™ is a cloud-based enterprise-class thermostat control center for NetX Wi-Fi and Ethernet thermostats.   CloudConnect connects users to an unlimited number of X7 series and X5 Series thermostats with an unlimited number of Multi-Site Locations/Categories.
Features

For NetX Wi-FI & Ethernet Thermostats (ALL MODELS)   
Remotely access and control all thermostat functions   
Current Weather and 7-Day Forecast at each Location   
Copy Schedules and Events to other Thermostats   
Special and Calendar Event Scheduling   
Copy Configurations to other Thermostats   
Dashboard View with Alert Monitoring 
90-Day Graphing
90-Day Data Logging