Ask Us About Our Non-Profit Discount Program!*
You do a lot for your community, and we'd like to return the favor. As a Non-Profit organization, you can receive special pricing for your NetX solution. Let us help you determine which components are needed to optimize your HVAC energy needs.
Save Energy Dollars & Put It To Use
NetX provides easy-to-use, energy-efficient, cost savings heating and cooling systems. Reducing facility energy waste and lowering utility bills will help free up funds for other important initiatives. NetX X-Series Thermostats are easy to install, operate, and maintain, which is especially beneficial for facilities with limited technical expertise or resources. The NetX X-Series thermostats also offer advanced features like remote monitoring and control, event scheduling, and advanced alerting with access from mobile devices or remote desktops. NetX smart thermostats are a smart[er] investment for worship facilities and non-profits looking to improve their energy efficiency, save money, and enhance the comfort of their occupants.
Thermostats
Docs
Related Articles
Energy Management
Energy management is an important aspect of any facility, including Worship Facilities and Non-Profit Organizations. NetX Thermostats help manage energy use with weekly schedules, event schedules, and controlled overrides. You can ensure that temperatures will be comfortable during "occupied" periods while saving energy during "unoccupied" times. Copy those energy savings schedules to any or all other thermostats under your control with a few simple mouse clicks. Our Demand Response feature allows you to take advantage of utility Demand Response incentives. Reducing demand peaks and saving energy is how NetX makes Energy Management Smart[er].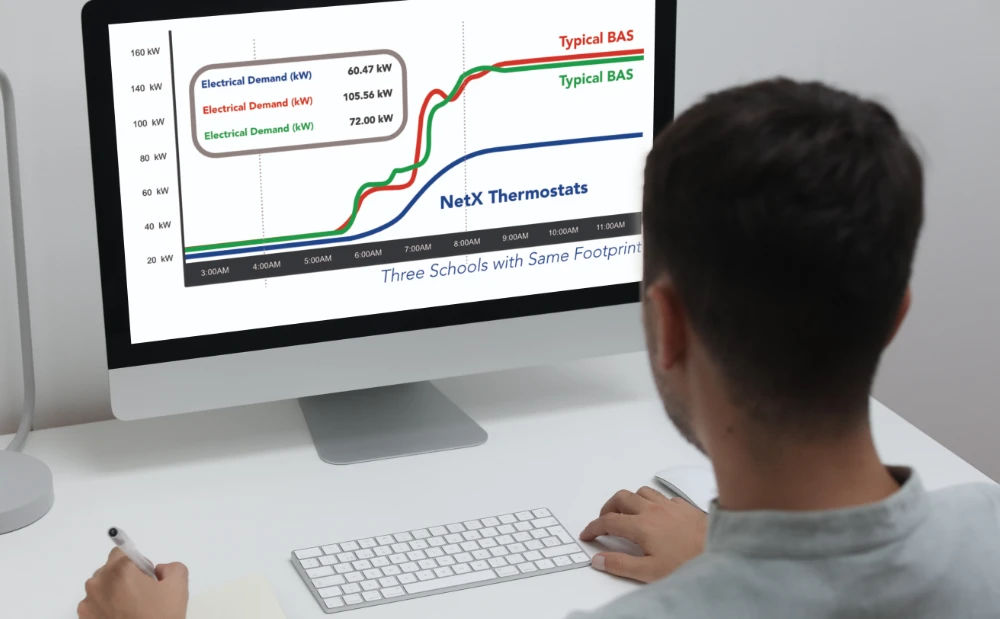 ---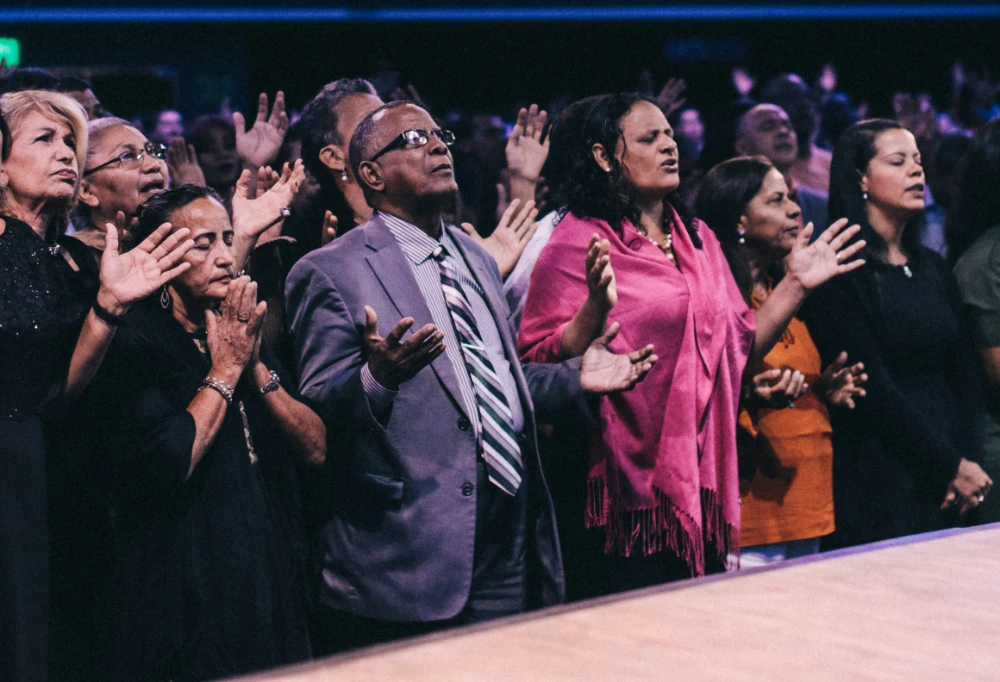 Managed Lockouts
NetX Thermostat Lockouts and Managed Overrides provide limited control at the thermostat to adjust room temperatures, which can reduce distractions and increase comfort. By allowing limited, timed overrides, one HVAC department noted an 85% decrease in temperature-related calls from occupants for facility temperature adjustments. This helps reduce worship distractions, create a more productive learning environment, and reduce service calls for temperature complaints.
---
Easy Upgrade Path
Upgrading to a powerful Network Thermostat control system can be as easy as replacing your existing thermostats. Let us quickly turn your team into Energy Saving/ROI Champions.
Factory Pre-Programming Setup
Factory Training
Online User Manuals and Video Tutorials
US-Based Technical Support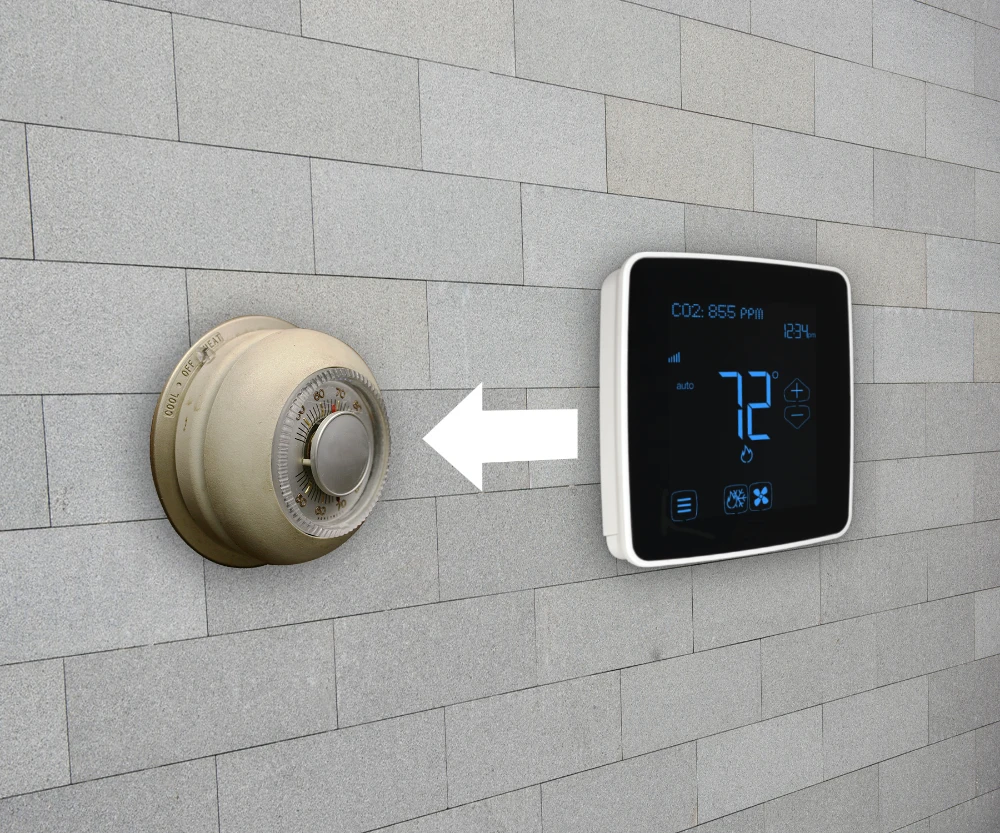 ---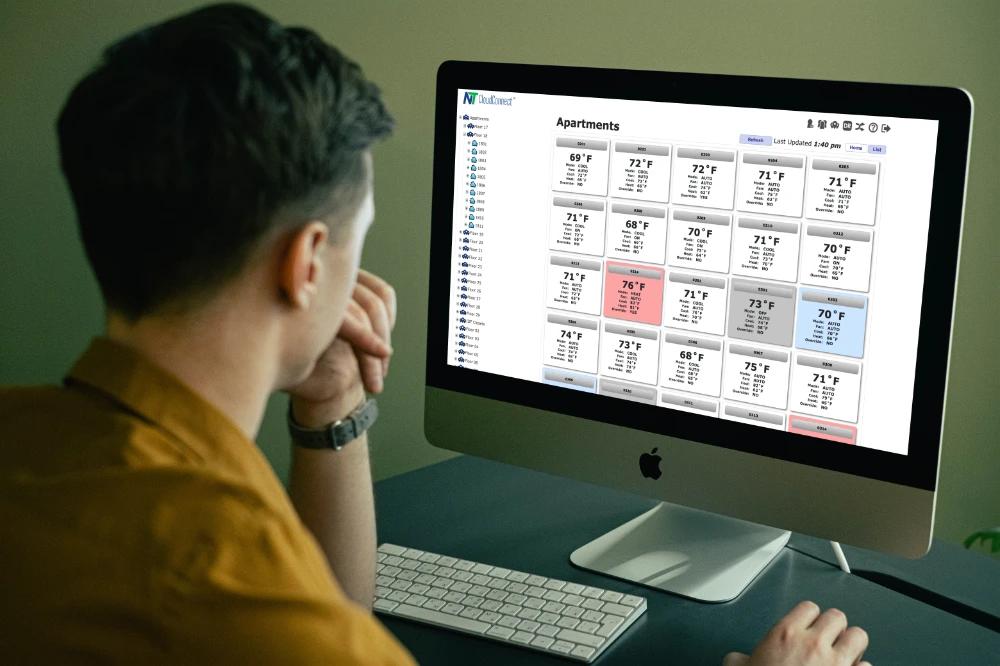 It's All About Control
With NetX, you can remotely access and manage all your HVAC equipment. Our easy-to-install and easy-to-use platform can be operated as a standalone solution or integrated into a larger system via BACnet or Modbus. Whether you are integrating into an existing BAS or finally getting control of those pesky portable classrooms, NetX is the one platform that controls it all.
---
User Access Control with CloudManager
Each area of CloudConnect can be controlled from the Role Manager configuration. Different roles like Admin, Contractors, and Maintenance Personnel can be added. Each role is set with unique visibility into the ecosystem. Adding new users is as simple as entering their name and their email address and setting a role that determines which function a user can control. For management purposes, additional information can be added in the notes section of each user. If you want to change access or other settings, this can all be edited under User Control.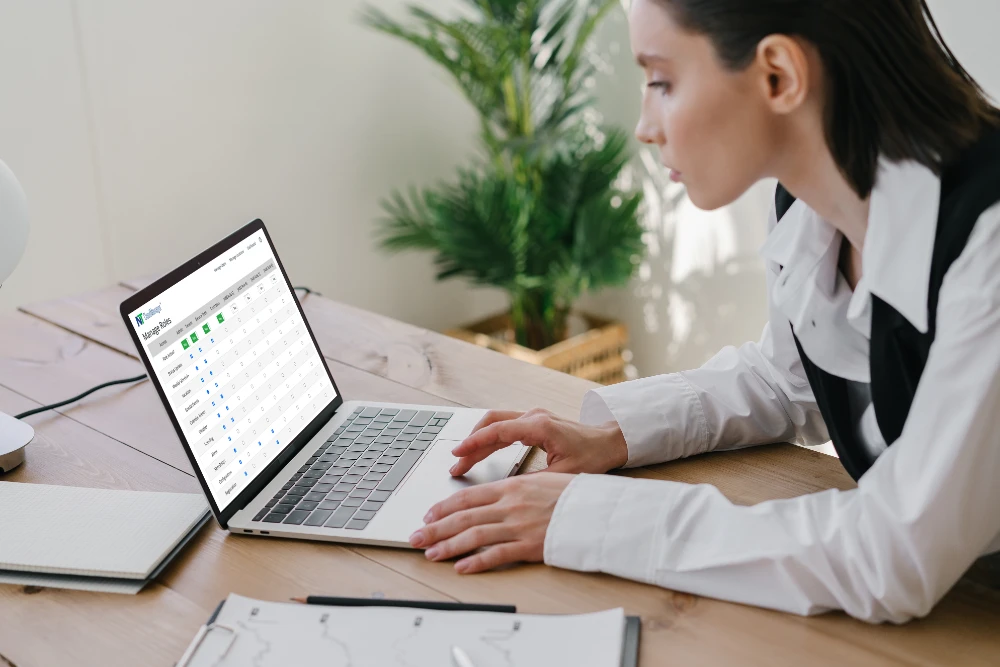 ---
Reduce Maintenance Costs with NetX Alerts
Reduce maintenance costs through NetX Alerts and remote monitoring capabilities. Remote monitoring of temperature, humidity, CO2, UV-C, filter change, and inefficient runtime alerts can help identify issues before they require a service call. Using NetX remote sensors can provide valuable information on supply air, return air, and even walk-in refrigerators/freezers reducing the need for emergency truck rolls and repairs. Maintenance staff can quickly identify issues without having to physically inspect equipment or buildings, saving time, and increasing efficiency.
---
* All eligible organizations must supply your 501(c)(3) non-profit paperwork. This special pricing is only available if you do your own installation. Contact Us for a complete list of requirements for our Non-Profit discount program.