Title 24 Standards in California and HVAC Requirements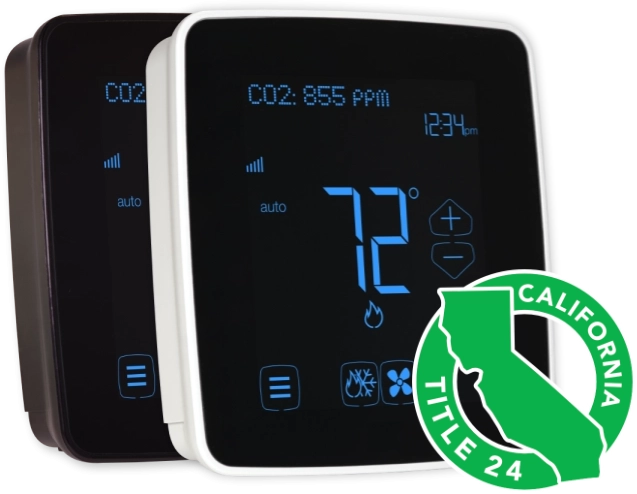 If you manage a building in California, you're probably well aware of the Title 24 energy efficiency standards. But did you know that these standards also apply to thermostats? 
Correct - under Title 24 (Parts 6 and 11), all new construction and renovations must meet certain HVAC requirements, including installing a qualifying thermostat.
On January 1, 2020, the California 2019 Building Energy Efficiency Standards (BEES) became effective, replacing the 2016 version. California is striving for all newly constructed commercial buildings to be Zero Net Energy (ZNE) by 2030, with 50% of commercial buildings retrofitted to ZNE by 2030. Several changes will have an impact on remodeling and new-construction retail projects. These changes affect the building envelope, HVAC thermostats, indoor lighting levels, lighting controls, and exterior lighting.
In this blog post, we'll take a closer look at these requirements and explain how they can help improve your building's energy efficiency.
Need Help With Title 24 Compliance?
What Is Title 24?
Title 24 is a crucial part of California's sustainability and green energy efforts. This set of regulations, which applies to new and newly remodeled residential and commercial buildings, encourages the use of energy-efficient lighting, as well as heating, ventilation, and air conditioning (HVAC) systems. Among others, the requirements for compliance are that buildings must have certain R-value insulation, windows, and doors must seal properly, and air leaks must be sealed. If you're not sure your system is compliant, check the manufacturer's label or consult with an energy specialist.
Smart thermostats are mandated in the Title 24 guidelines. These energy-efficiency standards require HVAC systems to operate efficiently and reduce energy consumption, thus lowering energy costs. Implementing energy efficiency standards helps reduce reliance on energy sources that emit greenhouse gasses, contributing to a better environment. 
Title 24 moves California one step closer to having zero net energy (ZNE) buildings that are designed to be self-sustaining while still providing occupants with the comfort they need.
What Are the Non-Residential Thermostat Requirements for Title 24 Compliance?
California building owners must meet the energy-efficiency standards of Title 24 for their HVAC systems to be compliant with building codes. Residential and commercial property owners must now meet these requirements to obtain a Certificate of Compliance for the construction, alteration, or maintenance of buildings. This building standards code was created to ensure energy conservation and green design in new construction, as well as upgrades and alterations of existing buildings. 
In order to comply with California's Demand Response (DR)  Controllable Thermostats guidelines, thermostats must be installed with an Open ADR 2.0a or 2.0b certified virtual end node (VEN) or include the hardware necessary to receive signals over a Wi-Fi, Ethernet, BACnet, Hardware or Zigbee communications path. Additionally, the systems must also preserve the ability of occupants to manually adjust the temperature if needed to maintain a safe and comfortable environment within the building. Network Thermostat (NetX) thermostats allow this manual override and include at least one of the following communications: Wi-Fi, Ethernet, BACnet, or Hardwired. 
The full requirements for California Title 24 DR thermostats are listed in Joint Appendix 5 (JA5) of the California Energy Commission (CEC) code. NetX thermostats comply with these requirements and are listed with the CEC. 
How to Achieve Title 24 Compliance for Your Building
Achieving Title 24 compliance can be a daunting task, but with the right equipment, solar power, and green strategies, it can be done. To meet energy-saving standards set forth by Title 24 in California, a combination of methods should be employed. Insulation and proper solar shading systems keep cool air inside during hot months. The insulation also helps the building retain warm air during cold months. HVAC systems must meet certain criteria concerning building envelope leakage levels, duct leakage measurement, and system efficiency standards. Installing solar-powered electric, or solar thermal, water heating systems will also help reduce overall energy consumption.
Advanced lighting technology such as LED light fixtures use far less energy than traditional incandescent or fluorescent bulbs while still providing excellent illumination. Property owners and managers might also add green tech upgrades such as solar paneling or upgraded air filters and Title 24 compliant thermostats (such as NetX Network Thermostats). These smart thermostats allow for automatic adjustment of temperature when no one is in the building. These are all additional ways to help achieve compliance without sacrificing comfort or convenience. 
Consider the Costs
With the standards updating every three years, the 2019 standards will be in effect until 2022 when new standards take place. Most will opt to meet the 2019 standards as they only get stricter and more expensive to implement as time goes on. 
Let's look at a residential application as an example. On average, the cost of implementing the 2019 standards will add about $9,500 to constructing a new home. However, it will save $19,000 in energy and maintenance costs for the homeowner over the course of 30 years. The increased value of meeting these new standards also adds to the sales price of a home with eco-conscious buyers always seeking the latest in green design and technology.
Make sure your thermostats are compliant with Title 24 standards. NetX thermostat control systems have been proven to save as much as 30% of the overall HVAC energy consumption and associated energy bill and up to 40% of electrical demand charges. Consider Network Thermostat your partner in providing a smart[er] thermostat to help you manage your building's energy usage.