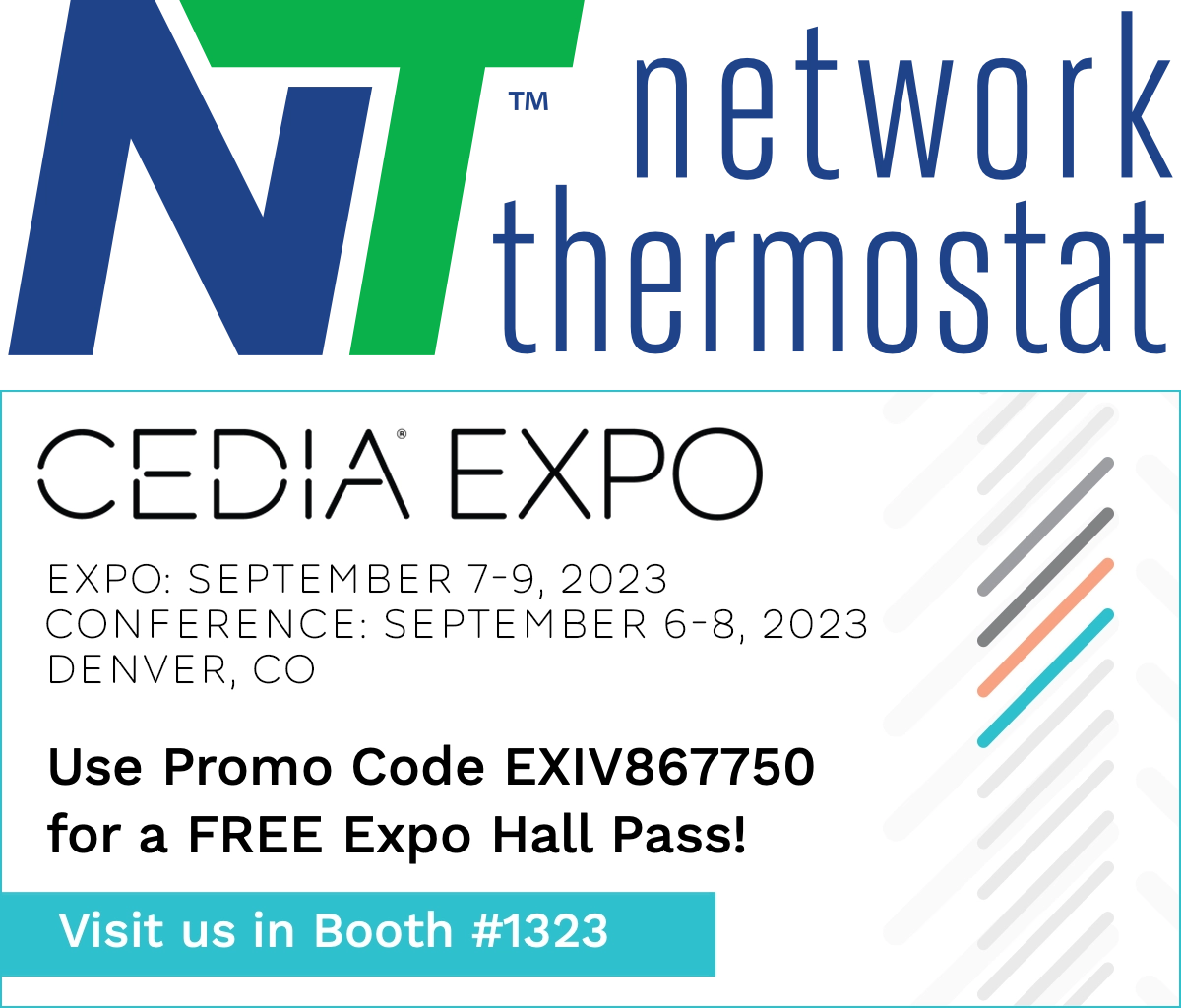 Grapevine, TX, 08/29/2023 – Network Thermostat™ (NetX), a leading provider of connected thermostat solutions for luxury residential and commercial HVAC applications is delighted to announce a great learning opportunity for Home Automation professionals. On Friday, September 8 Room #712, from 1:00 PM - 2:30 PM, Network Thermostat will be hosting an exclusive manufacturer training session at the prestigious CEDIA Expo event at the Denver Convention Center.
This manufacturer training event promises to be an informative and insightful experience, focusing on the latest advancements in HVAC technology. Attendees will have the unique chance to learn the cutting-edge features and functionalities of the NetX X7-M, the flagship model of Network Thermostat's smart thermostat lineup. This state-of-the-art commercial IoT thermostat is engineered to deliver both Wi-Fi and Ethernet communications in the same model.   All NetX thermostats, including the X7-M, substantially improve the reliability of home automation control of HVAC systems due to NetX's unique ability to connect directly to the home automation controller via WiFi or Ethernet on the local network. 
In addition to the NetX X7-M, the training session will also cover in-depth insights into Network Thermostat's innovative wireless sensor technology. These wireless sensors offer unparalleled ed flexibility and ease of installation, empowering users to optimize their HVAC systems for maximum efficiency and comfort.
Furthermore, attendees will gain exclusive insights into home automation controller drivers, and Network Thermostat's integration partnership with Airzone, a leading player in VRF and mini-split control solutions. This integration unlocks exciting possibilities for seamless control and automation, enabling users to control a wide variety of ducted and ductless HVAC Inverter/VRF systems.
"We are thrilled to invite Home Automation professionals to join us at CEDIA for this exclusive manufacturer training event," said Jerry Drew, CEO at Network Thermostat. "This training will provide attendees with valuable knowledge about our cutting-edge products, empowering them to deliver superior HVAC solutions to their clients."
The manufacturer training session will be led by Jerry Drew, CEO and Founder of Network Thermostat, who will be on hand to answer questions and provide practical applications for the CEDIA marketplace. Participants will leave the training equipped with the expertise needed to integrate Network Thermostat's solutions for various HVAC applications.